Alan Defibaugh
Alan lives minutes from DC in Silver Spring, MD. His passions are illustration, fine art, and design. A graduate from the Savannah College of Art and Design, he channels his illustration background into his personal work.
Specializing in digital illustration, hard lines and bold shapes are his best friend. He wouldn't mind drawing for your magazine, newspaper, poster, brochure, CD cover, web site, book, or anything else you can put a picture on. He classifies his work as colorful, humorous, and just a little off. He's a morning person and can often be found doodling people and things on the subway.
Art in Heat marks Alan's Washington, DC, gallery debut!
"Who Do You Want Me to Be
to Make You Sleep with Me?"
18″ × 20″
digital giclée print on canvas (edition size: 5)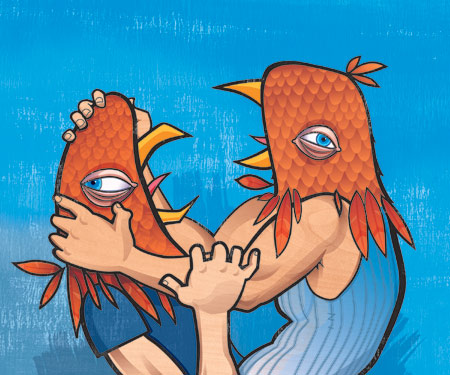 "Tussle"
24″ × 20″
digital giclée print on canvas (edition size: 5)